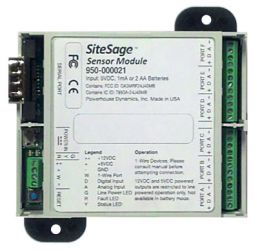 Easily integrate select sensors and meters with SiteSage using the Sensor Pod (sPod). This device has inputs for 1-Wire, Modbus RTU, dry contact, analog, and digital sensors. Note - a separate version of the sPod can accept Modbus RTU and 1-Wire inputs. Typical applications include meters for water or natural gas / propane, as well as sensors for environmental conditions and pressure. The Sensor Pod can either be powered by two AA batteries (Lithium Batteries recommended) or by an external power supply that connects through a Micro USB port. This is the same type of connector/charger that is used by most Android phones.
If the Sensor Pod is powered only by batteries, it cannot provide power to sensors.
The Sensor Pod has a 40-foot wireless communication range with the SiteSage Gateway.
Request specifications, wiring diagrams, or sensor / meter integration possibilities through our website.