Intelligent Heating, Cooling, and Ventilation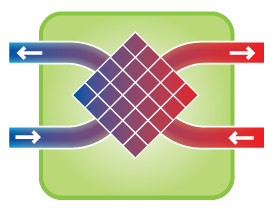 HVAC controls are great. Thermostats provide input based on room temperatures. PLC controls are more advanced and dictate heating, cooling, zone settings, or fresh air based on set points, room temperature, air quality, or occupancy. PowerWise integrates with these devices, plus sensors for buildings and equipment, to provide a complete operating condition history.

PowerWise makes these thermostats and PLC controls better.
First, PowerWise connects these devices to the web to provide historical reports, timely alerts, and web-based controls. Second, PowerWise adds a complete perspective on the building with additional sensors and meters to capture knowledge on mechanical systems and conditions. If there are multiple HVAC systems running, seeing how they work together and the impact on costs is valuable. Third, PowerWise can provide additional control flexibility beyond what is possible in standard PLC devices.
If the goal is improve efficiency and maintain specific temperatures and conditions, PowerWise makes heating, cooling, and ventilation controls truly intelligent with monitoring and control technology.
Performance Measurement
PowerWise offers standard monitoring protocols for virtually any type of heating or cooling technology. Generally, the equipment monitoring is part of a broader view of a building. Or the solution could be tailored towards common equipment across multiple locations. Solutions include:
Baseboard heating
Boilers
Domestic hot water
Ground source heat pump
Heat recovery ventilators (HRV)
Minisplits heat pumps
Pellet boilers
Roof top units
Solar hot air
Typically the configuration involves temperature sensors on the supply and return, as well as temperature and/or air quality sensors for the thermal zones. Electricity meters measure electricity used to run the equipment. BTU meters can show the thermal output of hot water systems. Airflow sensors measure air velocity in ducts. For constant-volume air systems, this equipment requires a current transducer (CT) on the supply fan, a current switch, or similar monitoring device. Ventilation systems also often have temperature sensors in the supply and return. The temperature differential should be 15-20 degrees Fahrenheit.