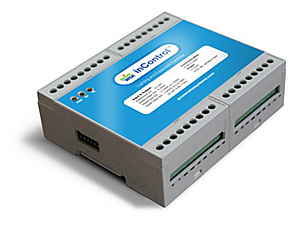 The inControl offers on/off and variable speed controls. Common applications involve using contactors to set schedules for lighting. Variable speed controls can be used for controlling valves and fans. The inControl control module has the following inputs and outputs for receiving and passing commands from user interaction, automated schedules or analytics:
Analog input x 2: 0-5V DC
Analog output x 2: 4-20 mA
Digital input x 4: 0-24 VAC & 5-30 DVC
Digital output x 8: 0-60 VDC & 0-42 VAC

2A continuous & 6A < 10Ms
Communication: RS485 and Zigbee
Power:
10-30 VDC
24 VDC Minimum for Analog Output
Operating Environment:
Temperature: -40°C to 60°C (-40 to 140°F) Humidity: 0-95% Non-Condensing
Dimensions:
Length 4.125" Width 4.375" Height 2.5"
Future integration could include a light or motion sensor to impact lighting controls.