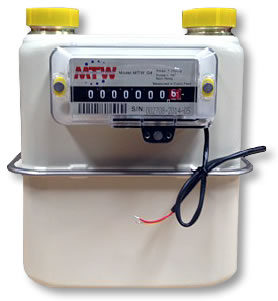 This natural gas / propane meter works for many residential and commercial metering applications. Specifications for this 3/4" meter include:
Flows from 1.4 ft
Working temperature range: 4° F to 122° F
Pulse output 12VDC max @ 10mA
7.5 psi max operating pressure
0.04 cu ft cyclic volume
For integration with the inView application, this pulse meter wires to the inDAC. For use with SiteSage, this gas meter wires to the SiteSage Sensor Pod or the SiteSage Gateway.
Larger gas meters are available upon request.