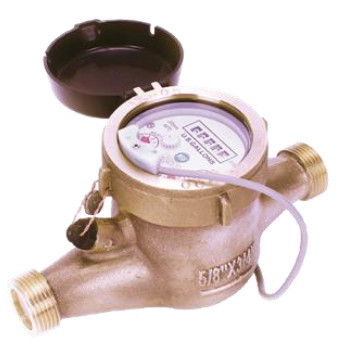 This water meter uses a multi-jet principle and is known for its wide range, simplicity, and accuracy in low-quality water. The device is certified to NSF/ANSI 61. The impeller is centered in a ring of jets, with inlet jets on one level and outlet jets on another. A gear train drives the register totalizer dials. For pulse output, one of the pointers is replaced by a magnet, which is detected by an encapsulated sensor attached to the outside of the lens.

Pulse rate is determined by the dial on which the magnet is placed, and by the number of sensors (single or double). Changing the pulse rate requires no special tools and can be done in the field.
This meter has a brass or a plastic body and is available in 3/4", 1", 1 1/2" and 2" versions. The device uses a two-wire reed switch. They provide a dry contact closure and do not require power.
The Seametrics meter works with SiteSage and inView applications. SiteSage customers commonly use the 4-pulse per gallon sensor setting. This meter wires to the inDAC, Sensor Hub, sPod, or SiteSage Gateway.